Advisor, Speaker and Maverick on the Future of Food
How To Fix Food
Food is broken. Unless you agree, read no further. The point is how to fix food. I come from the tech sector, think like tech people and see no limits to the possible solutions. To me, tech and data, AI and new business models are key factors for innovation. And innovate we need. The food sector routinely confuses product development for innovation and fails to see how new innovation eats away at their core business. I help you understand how the next gen food system will be shaped by the innovations you can see, and the ones around the corner.
Strategic Insights
It's not about the food objects, it is what food leads to. Our understanding what food can do is the key to changing the current system to something better. That means challenging yourself to arrive at new strategic insights what food can mean for you and your business. Tomorrow someone else will decide what we eat, algorithms will guide us to health through food and loads of value will move to the digital layers. For companies inside and outside the food system I help them reach strategic insights how the new food system can be a massive opportunity.
Connecting People
Tomorrow is uncertain territory but will arrive no matter what. The path forward is best trodden with good guides that know the terrain and how to act when something happens. Planning is hard and you need to take the plunge – based on your corporate DNA, your long-term objectives and talent. Thankfully you will not walk alone. But where can you go? Who should you walk with? How can you engage with innovators and entrepreneurs and speak their language? It might seem like magic, but it is really only knowledge and massive networks.
Here Is Where You Find Me
At Sweden Foodtech we help build the next gen food system. We also host one of the world's largest food festivals, the Smaka Good Food Festival and the absolutely whackiest and most fun food tech conference, The Big Meet.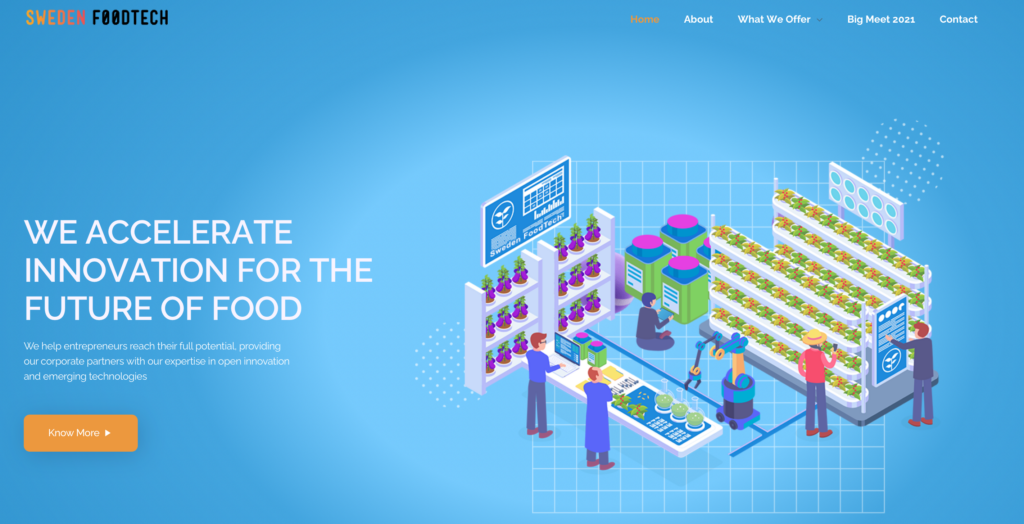 "Johan, Mr Foodtech Sweden, is a world class thought leader, networker, early adopter and business developer. He is an expert in bringing people together, making things happen. He was the person that first brought my attention to the huge possibilities in foodtech, for which I am forever grateful. He is also the person that single handedly organized the emerging Swedish foodtech eco-system under the Sweden Foodtech umbrella. Most importantly, he is a person to trust with a big heart for people and for sustainability issues."

Gustaf Brandberg, CEO Gullspång Invest
"A brilliant and crazy thinker that triggers your creativity and expands what you think is possible. Johan is an inspirational speaker, a tough (but fair) coach and brilliant in spotting opportunities to how to create a more sustainable world. As the founder to EatIt I truly appreciated to have him as a coach."

Theresia Silander-Hagström, Founder EatIt